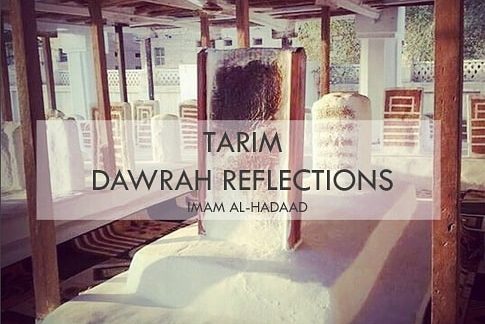 Dowra Reflections 4: Imam Al-Hadaad
In the final installment, our beloved teacher, Moulana Khalil Hendricks shares his account of visiting the homeland of one of Islam's great scholars, Imam al-Hadaad. Along with Mualima Radia Bawa Hendricks and their family, they have travelled to the blessed city of Tarim, Yemen to immerse themselves in The Dowra, a 40-day Islamic Studies programme taking place between 26 June-03 August 2018 (12 Shawwal-21 Dhul Qa'dah 1439).
"It was said that even the streets of Tarim are blessed. Its streets have been tanned by the feet of great masters, full moons of guidance, who light up all darknesses." – Imam al-Adani
This is the last of several updates that they have shared with us. We invite you to follow their journey, by following their updates on our blog, Facebook and Instagram pages.
Dowra Reflections 4: Imam al-Hadaad
This morning I visited the grave of the great scholar, saint, renewer of faith, and caller to Islam – Imam Abdullah bin Alawi al-Haddaad.
His grave is amidst generations of sayyids (members of the prophetic family) – that have been the wellspring for much of the spread and renewal of Islam throughout the world. Buried in the same graveyard are companions of the Prophet SAW that came to Yemen to fight in the apostasy wars during the khilafah of Abu Bakr (RA). Tarim, a city in Hadramout, declared allegiance to Abu Bakr (RA) and it became a safe haven for the companions.
Abu Bakr (RA) made a special duah for Tarim that it remains inhabited and cultivated till the end of time, that Allah makes its water plentiful and that pious people blossom in its lands.
It was very moving sitting at the grave of Imam Al-Hadaad, thinking about my parents, grandparents and the entire Cape Town community that has recited his famous Raatib Al-Haddaad ("Gadat' as known in Cape Town) and the Wird al-Lateef for generations. Sh Yusuf of Macassar was a direct student of Imam Al-Hadaad and the Raatib and the Wird of Imam Haddaad was likely read in Imam al-Hadaad's lifetime in Cape Town. These daily litanies serve as a means to ensure that the Quranic, Prophetic and saintly prayers are a constant feature in the life a believer.
Imam Al-Hadaad became blind at the age of four however Allah granted him great spiritual insight. In his childhood after his morning lessons had finished he performed 200 rakats of prayer. His works are read all over the world and his students were giants in their own right.
A sign of Allah's acceptance is that Allah causes the fruits of one's efforts to endure. Here I was, sitting next to the grave of a saint whose works have been the spiritual heartbeat of the Cape Town community for hundreds of years, reverberating in our homes and mosques.
May Allah raise him to the highest ranks of Paradise and bless us with a taste of the spiritual stations of the awliyaa.
For further reading please see Imams of the Valley by Sheikh Amin Buxton.
Khalil Hendricks
Dowra Reflections Series
Dowra Reflections 1: Journey to Tarim
Dowra Reflections 2: First Week in Tarim
Dowra Reflections 3: The City of Light
Dowra Reflections 4: Imam Al-Hadaad