Reflecting on the Unveiling – Avenues to the Almighty
Facebook
Instagram
Bismillah
Praise Be to Allah till He is pleased
Indeed, we are honoured with Iman, blessed with Islam and elevated with the Qur'an. We are truly amongst the best nation, the nation of the Chosen One, Muhammad ﷺ. Grateful is all we can be! Alhamdulillah.
Great Actions Started Off as Great Intentions…
The fruit of a great intention is the event of The Unveiling – with no aim other than to spread the sacred knowledge that has been acquired by sincere souls searching for the straight path back to Allah ﷻ. The hope is that it reaches and penetrates to the deepest part of the human heart, creating a light that travels from being to being – only through the might and permission of Allah.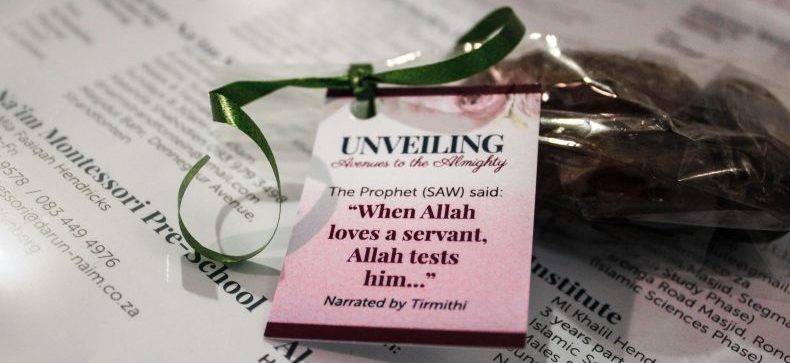 Diving in – Beyond our Perception
Faith is coupled with acceptance of every situation from Allah, whether good or bad, every situation demands His ﷻ praise – for that's truly how we are raised in degrees beyond our perception. If we were to know how Allah deals with our affairs, our hearts would melt out of love for Him. Allah wants Jannah for us, but His Jannah must be earned… ''Or do you think that you will enter Paradise while such [trial] has not yet come to you as came to those who passed on before you? They were touched by poverty and hardship and were shaken until [even their] messenger and those who believed with him said, "When is the help of Allah?" Unquestionably, the help of Allah is near.'' [2:214]
Why must this happen to me? Why this? Why that? What if this?  If only I…
Dear beloved, Allah tests those whom He ﷻ loves, so be patient. He knows while you do not know, He is Al-Hakeem (The Most Wise). We are not above His wisdom, rather we are in His wisdom! Allah says: "…Perhaps you dislike a thing, but it's good for you, and perhaps you love a thing, but it's bad for you, and Allah knows while you do not know.'' [2:216]
To get what you love, you must first be patient with what you hate – Al-Ghazali
All that is sent to you; indeed, it is meant for you. We are but travellers in this world.
As travellers, we need to prepare ourselves as much as possible – packing in patience, perseverance, mercy, love, tolerance moreover understanding, but the best of all is taqwa. Taqwa is the precautions we take to protect ourselves, the consciousness that Allah is above all else and just as we naturally accept the sunrise and sunset to be part of the design of this world, we should naturally accept that tests and trials are also part of the design of this world and a big part of our journey. In fact, it's what makes it so interesting.
Don't you agree? So, it's not about, "Is Allah testing me or punishing me? Is He ﷻ pleased with me or displeased with me?". Rather it's about, "How can this test help me gain closeness to Allah?". If we could only see that the tests and trials are not happening to us, but it's happening for us. Thus, we remain in the middle of hope and fear.
Furthermore, we are comforted by the words of the Prophet ﷺ when he said, "Indeed, the greater reward comes with the greater trial. Indeed, when Allah loves a people, He ﷻ subjects them to trials, so whoever is content, then he earns Divine Pleasure, and whoever is displeased then he earns displeasure".
So, be happy – Allah loves you and me. Only on Qiyamah will we truly see who earned the greatest reward, because they fought their ego and desire and was of those who truly aspired to attain the pleasure of Allah despite the magnitude of the pain, strain, fear, loss, tears and gain – he/she was a slave of gratitude. So, peace be to them on the day they meet their Creator ﷻ, the Lord of the worlds.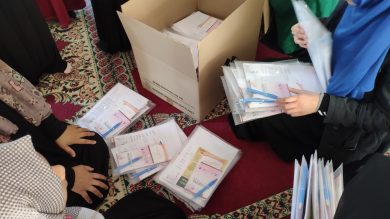 A Heart's Remedy
All of us have roots and it is what structures us so that we can have strong foundations, which will allow us to develop and grow thus raise above every circumstance. We all feel emotions; however, we all deal with it differently, we need to allow ourselves to embrace the emotions then find the necessary methods to overcome it.
We remember the Prophet ﷺ when revelation was not coming down to him ﷺ or months. It was tough. He ﷺ thought Allah disliked him ﷺ and didn't want him ﷺ as a Prophet anymore. Take note of the fact that Allah didn't give him ﷺ a release of these emotions immediately, he ﷺ had to go through it first – then Allah revealed the most beautiful Surah, Surah Duhā… it came as a comfort for him ﷺ, and just like that all of his ﷺ worries were erased and he was reassured by Allah. Ultimately, it was worth the wait. Today, we recite it and still it comforts us more than anyone else's words can. You realise the true spiritual councillor is the Qur'an.
When you feel sad – pause.
When you are angry – pause.
When you are in pain – pause.
When you are just 'tired' – pause.
When you pause – pray!
Keep in mind the verse where Allah says:
"Allah does not burden any soul except its capacity, for it is what it earned, and against it is what it earned" [2:286]
The Gift of Islam
Allah made you of the last nation, so that He ﷻ can honour you. Your honour lies in your faith in Allah, your obedience to His law, living your life according to the way of the Messenger of Allah ﷺ, and returning to Allah while He is pleased with you.
When you enter your grave, two questioners will come to you and they will ask you:
WHO IS YOUR LORD?
WHAT IS YOUR RELIGION?
WHO IS YOUR PROPHET?
What will the response of your soul be? It will only utter that which it lived by. Verily, true honesty leads to true piety, and true piety leads to the Garden, and the Garden is for none, but the believers. Islam doesn't want you to be a blind believer, Islam wants you to educate yourself, ponder and reflect, go out and search for the truth, find out who your Lord is, who you are, what is your purpose, and where are you going.
Allah says: if you look for Me, you will find Me!
So, migrate, move and run towards Allah, He ﷻ is waiting to hear from you! Confess and allow yourself to progress; indeed, Allah loves humility and complete submission to Him. You and I are not created except to worship Allah, so SUBMIT, like all the honoured slaves do.
The Prophet ﷺ said: The intelligent one is the one who does actions for that which is after death and the unintelligent is the one who follows his desires. [Tirmidhi]
So dear slave of the Most Generous, set your priorities straight and prepare your heart for the meeting with its Master. Indeed, from Allah do we come and unto Him is our return…
May the peace and mercy of Allah be upon you.
Watch: Unveiling 2019: Avenues to the Almighty
Malikah vd P.
Find out more about the Unveiling Conference
Visit: www.unveilingconference.co.za
Follow: @UnveilingConference on Facebook and Instagram
The Unveiling Conference 2019 themed Avenues to the Almighty, continued its exploration of the beautiful names of our Creator, with the following speakers and topics.
Muallima Safia Jappie – Heading towards Allah
Muallima Kouthar Karriem – Beyond our Perception
Sister Shahana Mia – A Heart's Remedy
Muallima Fadwa Solomon – Belonging to Him
Muallima Gairiya Samsodien – Meant to Be
Muallima Roshaan Misbach – Priorities in Perspective
Learn more at: www.unveilingconference.co.za
Watch a video of the event on the @UnveilingConference Facebook page:
Find out more about the participating institutions:
Darun-Na'im Wynberg: www.darun-naim.co.za | 021 761 5332
Zahraa Institute: www.zahraa.co.za | 076 638 5627
Darun-Na'im Mitchell's Plain: dnmplain@gmail.com  | 074 062 7976
Qamar Institute: www.qamar.co.za | 076 702 8936
Darun-Na'im Strandfontein: dnaimstrandfontein@gmail.com  | 083 979 3498
Mizan Institute: www.mizan.co.za | 076 088 6273
Darun-Na'im Montessori Pre-school: adminmontessori@darun-naim.co.za  | 021 761 9578 / 083 449 4976
A-Tartil Institute: tartilinst@gmail.com  | 021 836 5373 / 021 762 7627 / 084 615 8949
Darun-Na'im Girl's High School: dnghs@darun-naim.co.za  | 021 761 5331 / 074 105 2679